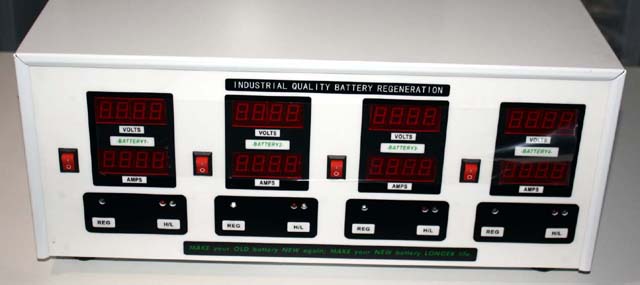 REGBAT 4x12V Pro adopts the advanced electric pulse regeneration to revitalize the "tired"12v batteries. The electrical pulse is sent to the resonance frequency of the sulfate lead, make it vibrate and drop into the thin particles, and then, the sulfate dissolves in the acid.
The regeneration process involves sending micro-pulse high power (up to 13A) with a maximum cell voltage of 2.6 v. This action will reduce the internal resistance of the battery and bring back it to normal, allowing the battery to be charged normally in the future. Full capacity of the battery will be reached after a few charge and discharge cycles.
The recommended regeneration process takes place as the following:
Duration: 24 Hours (maintenance of regeneration)
Duration: 72 Hours (reconditioningofregeneration)
This powerful regenerator is suitable for the treatment of lead batteries (Stationary, Marine, Truck, Auto (start), Small Lift Truck 2x12v). It has been planned to renovate the 12V-batteries ofwhich capacity is between 10Ah and 500Ah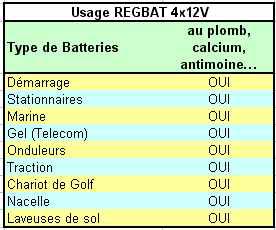 Advantage of the REGBAT Pro :
* Restores original capacity of sulphate batteries.
* The lifespan of the battery is significantly lengthened, and can even be doubled (by performing a regular maintenance of regeneration)
* Longer battery use between two charges.
* Shortened charging time (low internal resistance) and less charge cycles (full charge for each refill).
*Significant decrease of lead waste and recycling the cost of dead batteries.
* The self-refund investment in a few months.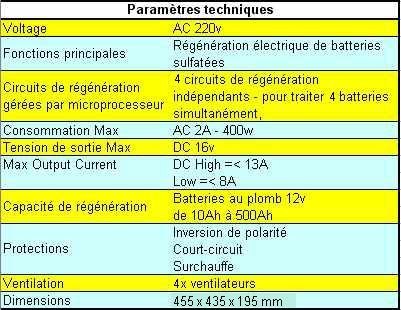 Usage:
1- Connect the cables to the battery (red to "+", black "-"),
2 Activate the power button after normal display on the unit,
3- Press the refresh button,
4- Then press the power button to treat (High for the batteries of which capacity is 100-500Ah and Low for the small one of whichcapacityis 10-100Ah)
The regeneration time is about 20 hours. It depends on the degree of sulphate of the battery.
* To reduce the regeneration time, it is better to charge the battery of which capacity > 100Ah properly before starting the regeneration process.
Precautions of Usage:
1 - SULFABATT Pro has been made for only the 12v-batteries of which capacity is higher than10Ah.
2 - So you need to protect it against moisture and keep in a well-ventilated place.
3 - Keep the battery far from any flame or sparks during charging, since the battery can generate flammable gas (hydrogen + oxygen) during charging (especially after charging). After charging the battery, turn off the regenerator, then disconnect the Crocodile Clips to avoid any sparks.
Condition: Brand new in box
Secure Payment: French Cheque, Bank Transfer, Paypal or Credit Card.
Shipping: Items are shipped within 48 hours after the receipt of payment of the Product. The price includes: handling, packing and shipping.
Possibility of taking the delivery at the Storein Neuilly sur Marne
Approximate shipping cost: 20€ by Colissimo. (gradually decreasing cost)
Demonstration is possible at the site in Neuilly Sur Marne (Paris region)
Warranty: 1 year includingparts and workforce.